The energy was electric at last week's Engage Summit as industry leaders, learners, and higher ed professionals came together for an unforgettable few days. But the real highlight came on the last morning of the conference when our visionary CEO and Founder, Ardis Kadiu, joined forces with our Chief Product Officer, Ty Fujimura, and the Vice President of Product, Eric Range.
Together, they unveiled the remarkable progress we've made over the past year and provided an exclusive sneak peek into the mind-blowing features and AI-driven technology that are about to revolutionize how we approach education.
Keep reading for a recap of their exciting announcements or watch the keynote session!
Higher Education: A Changing and Challenging Landscape
Higher education is at a crossroads. Institutions are facing significant challenges.
Changing Student Expectations:

Today's students are digital natives who demand convenience, speed, and personalized experiences. However, most educational institutions struggle to meet these expectations.
Staff Shortages and Expertise:

Another major challenge in higher education is not only the need for more sophisticated tools and techniques but also high staff turnover rates and staffing shortages. Traditional methods fall short when it comes to efficiently managing student data, marketing, and communication.
No ROI Insights:

Data silos are hindering institutions' ability to gauge the effectiveness of their efforts and understand what works across the entire student journey.
But there is hope on the horizon. Innovative schools are leveraging technology to transform the student experience, streamline operations, and gain valuable insights.
A Look Back: A Year In Review
Since last year's Engage Summit, we introduced various exciting features to help our customers overcome these major challenges. Here are some notable highlights:
Overhauled Person Profile:

Gain a deeper understanding of each individual student, enabling personalized interactions and support. Customize based on student and staff roles.
Organizations:

Manage student organizations and foster a vibrant campus community effortlessly.
Journeys:

Create tailored student journeys, ensuring a seamless and personalized experience from start to finish.
Overhauled Task Management:

Streamline workflow and task coordination, improving efficiency and collaboration among staff members.
App Payment + Submission Rules:

Simplify the application process with customizable payment and submission rules.
In-App Calling:

Enable seamless communication within the platform, enhancing student-staff interactions.
Dynamic Territories:

Optimize recruitment efforts by dynamically assigning territories based on various criteria.
15+ New & Updated Packs:

Unlock a plethora of new features and functionalities tailored to your institution's needs.
Supplemental Application Forms:

Collect additional information through customizable supplemental forms.
Integrations:

Seamlessly connect Element451 with other tools and systems to enhance efficiency and effectiveness.
Appointments: A comprehensive 24/7 booking site with individual and flexible staff availability, calendar integration with Outlook, Gmail, and other platforms, appointment notes, automatic reminders via email and SMS, and the ability to track attendance, cancellations, and no-shows.
A Look Ahead: The Element451 Roadmap
In the fast-paced world of higher education, staying ahead of the curve is critical, and we continue to push the boundaries with our latest features. From streamlining appointments and coping with staff shortages to unlocking valuable insights and enhancing student profiles, we're empowering educational institutions like never before.
In the remainder of 2023, we aim to launch many exciting new additions to help schools transform how they engage with stakeholders and optimize their operations.
Copilot: Your AI-Powered Companion
Copilot is a suite of new AI tools designed to help our customers get more done with less effort. Earlier this year we launched comprehensive content authoring and editing tools. This summer we will launch the Copilot AI campaign builder, which allows users to create compelling and personalized emails and SMS messages in a fraction of the time. When using Packs, emails are pre-written for you with the ability to customize and complete them to your student's needs, but with Copilot, the writing can be done for you, saving even more time combining two great features into one.
Throughout the year we will be expanding Copilot to connect with more and more of Element451's features. Our vision is that Copilot will be seamlessly integrated and embedded into all parts of our platform, transforming how customers use Element451 forever.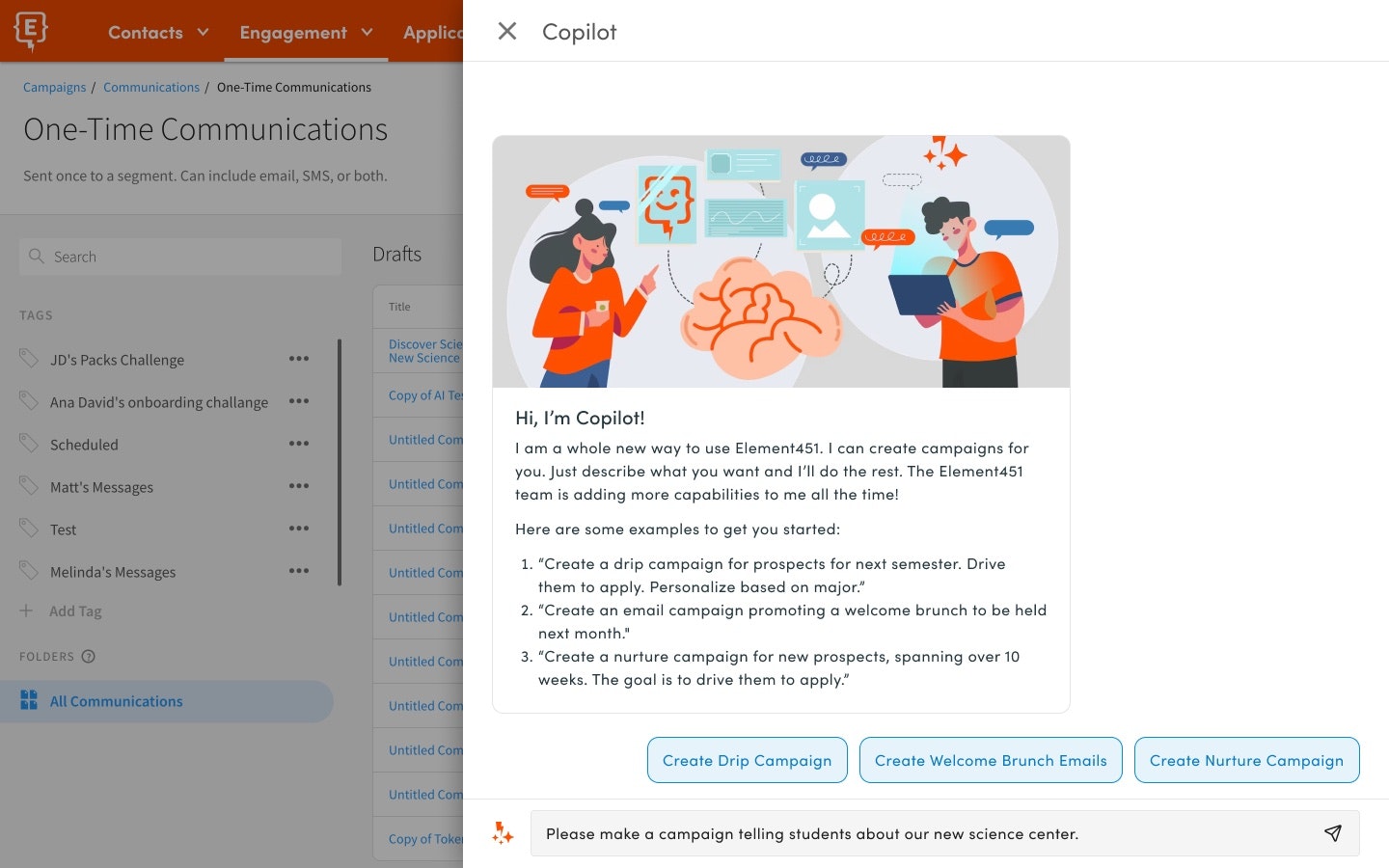 BoltBot: A Student-First Conversational Chatbot
In the past, live chat relied solely on human staff, leading to a bottleneck in response time and limiting its effectiveness. But now, leveraging the power of OpenAI's tools, we've created BoltBot, an intelligent and lightning-fast chatbot capable of addressing a wide range of inquiries and offering direct assistance. By integrating with Element451's databases and other valuable sources like the school's knowledge base, BoltBot ensures users receive accurate and comprehensive answers.
With its advanced understanding of complex questions, seamless integration with Element451's profile information, and remarkable features such as chat history recall, multilingual support, and personalized assistance, BoltBot is set to become the primary interface for public interactions with Element.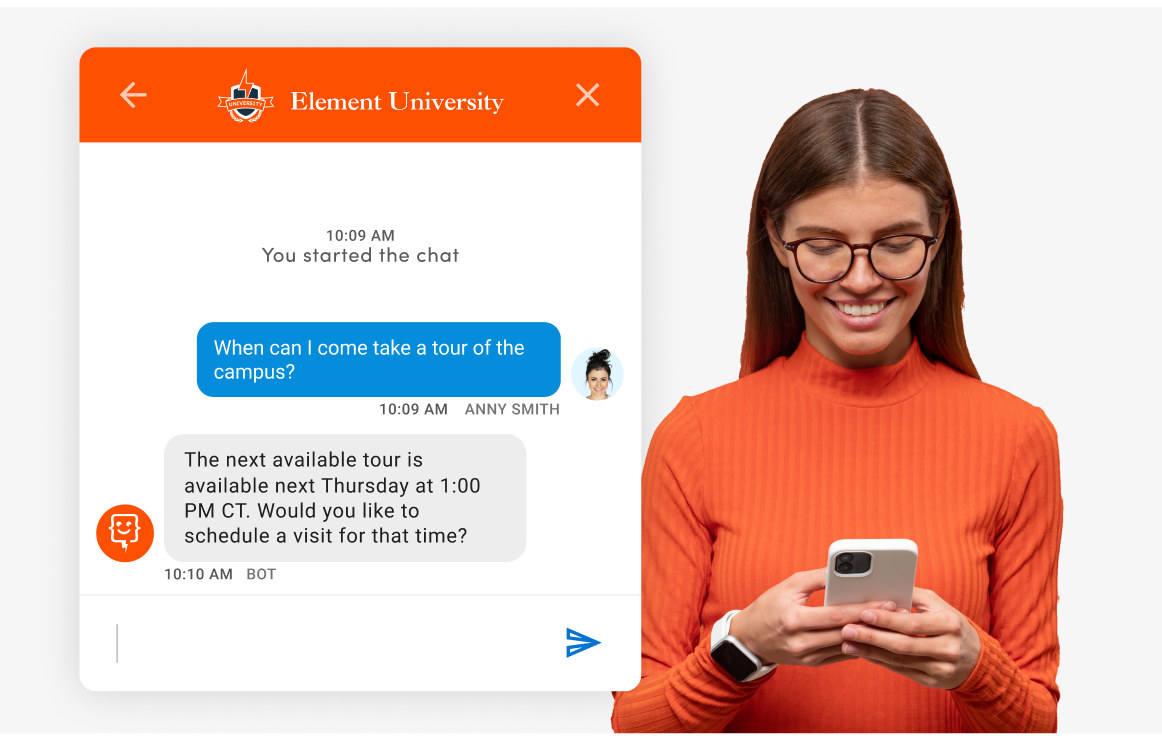 Ignite: Making Element451 Accessible to More Schools
Ignite takes the best marketing and communication tools of Element451 and makes them available to schools using Salesforce and Slate. We will release Ignite into private beta this summer with a full public release scheduled within Q3.
Ignite customers can take advantage of best-in-class engagement tools like Element451's dynamic email builder, conversations via SMS and webchat, and AI-powered features like BoltBot, all without changing their primary CRM. Ignite will be fully self-service, and users will be able to set it up and get started in minutes, not months.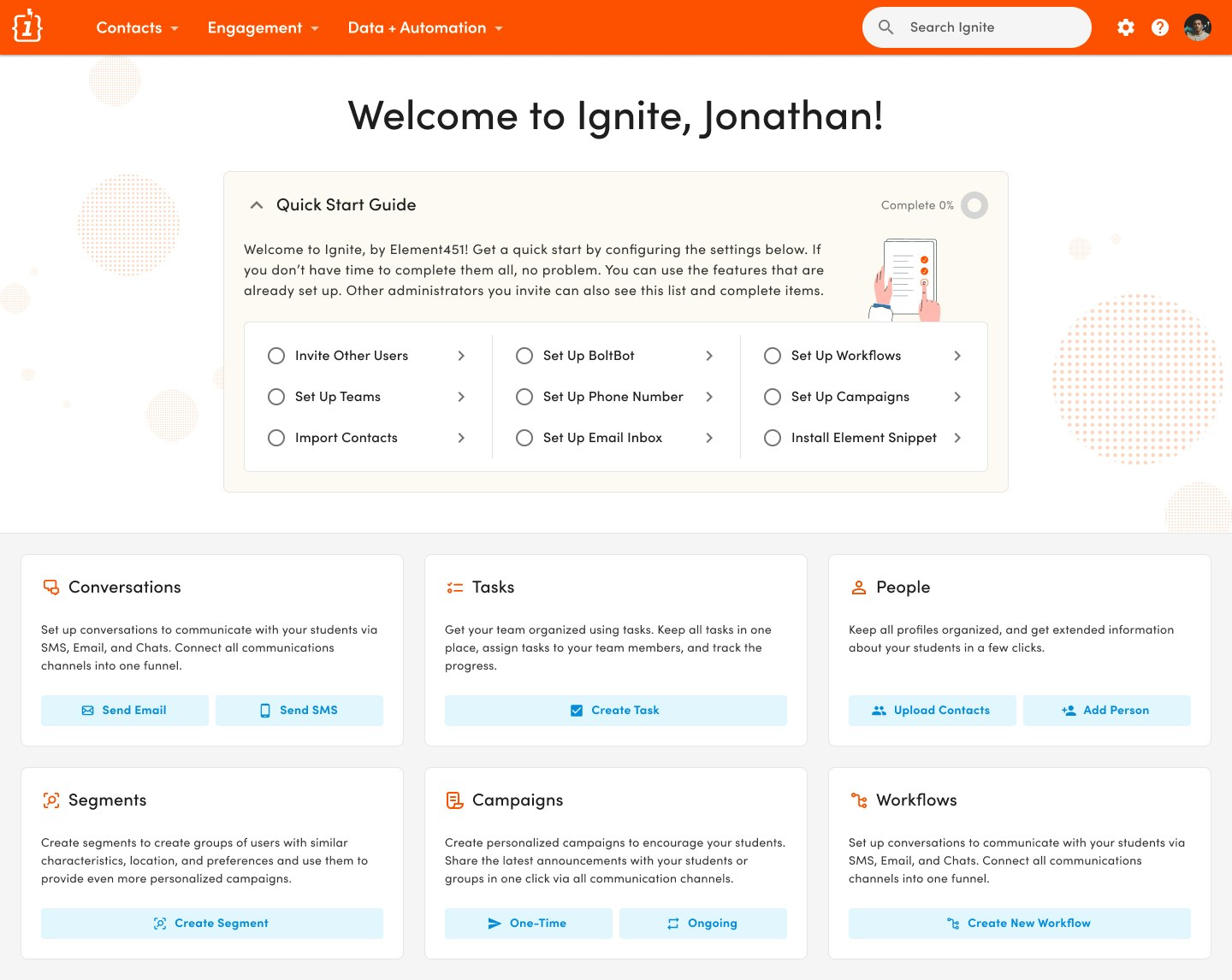 Insights: Unleashing the Power of Data
We understand how important it is to know your ROI for communication activities, which is why we'll be offering unlimited access to eight new dashboards. These insights provide a comprehensive understanding of the effectiveness of your communications strategies and enable data-driven decision-making.
With Element451's insightful analytics and reporting, institutions can optimize their efforts, improve efficiency, and enhance student experience.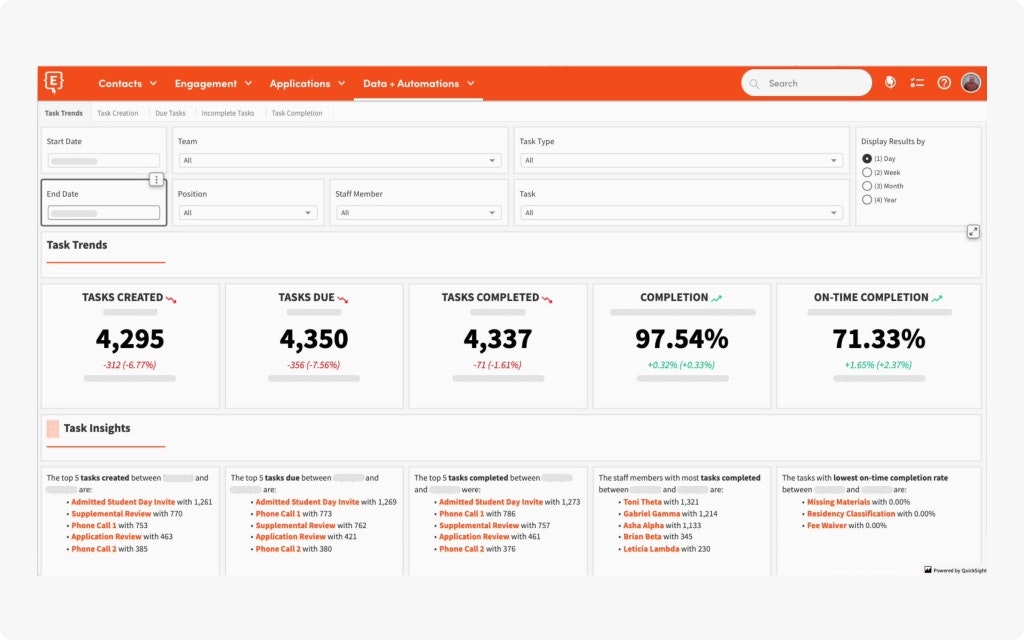 Expanded Student and Alum Profiles: Personalized Communications Made Easy
Element451 already supports robust profile pages for current students and alumni. Next year, we will add all new data types to provide a 360-degree view of everything going on with each student or alum. These new data types will be connected to existing SIS and LMS systems through powerful new integrations.
The new data types for current students will include coursework, housing, financial aid, and degree progress, while alumni profiles will now include information on work history, family details, and giving. The new data will feed into Element's robust communication and AI toolkit, allowing schools to connect with their people like never before.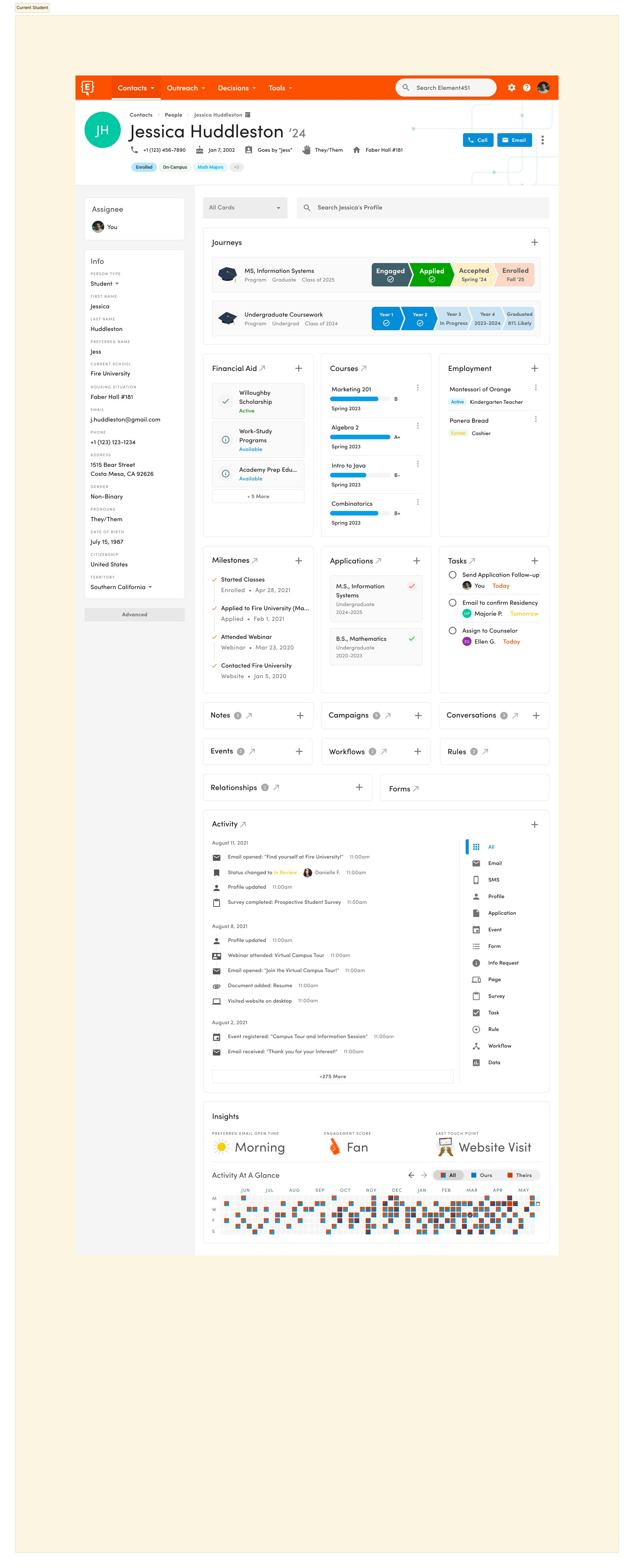 Settings Consolidation: Streamlining User Experience
We are consolidating all settings into one beautiful, easy-to-navigate interface. We are also exposing fields that previously could only be configured by our customer success team, saving our schools time and effort. The updated interface will make it easier than ever for our customers to configure Element451 exactly to their preferences.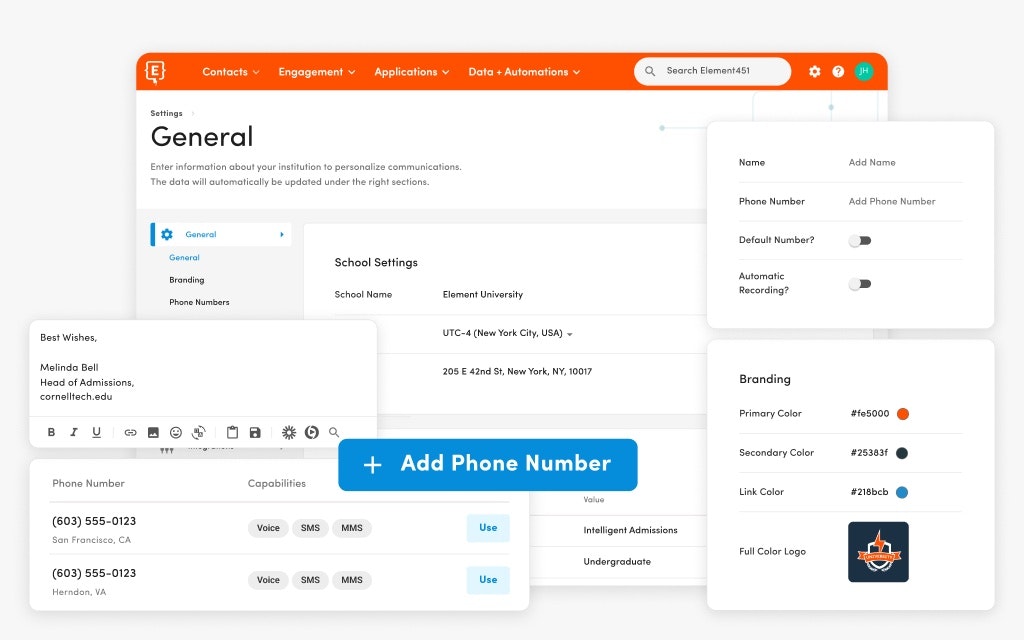 User Portals: Opening up Element451 to All
This year, we plan to create a new public-facing "Portal" application that will allow users with Element451 profile pages to access and edit their information, allowing them to take advantage of our tools while saving time and effort for our schools. The portals will be an ideal one-stop-shop for users to access Element451's powerful functionality, including our AI suite.
The Portal will be optimized for use on mobile and may even be extended to serve as a true mobile app for our schools. What's more, some portal functionality will be embeddable on school websites, allowing our customers to quickly add new functionality to their site that is seamlessly integrated with the Element451 database and communication tools.
Raising The Bar
Element451 continues to raise the bar in higher education by introducing innovative features that tackle the industry's challenges head-on. With streamlined appointments, AI-powered campaign assistance, actionable insights, personalized communications, improved user experience, and empowering school portals, Element451 remains at the forefront of transforming the educational landscape.
Embrace the power of innovation and join us today to revolutionize your institution's engagement and operations.
Have you heard?
We are thrilled to announce the launch of our new podcast, "The Student Engagement Podcast." Join us on this engaging journey as we explore the fascinating world of student engagement. Whether you're an educator, a student, or simply passionate about the learning process, this podcast is for you.
Each episode will provide valuable insights on leveraging AI to enhance student engagement, offering practical ideas and strategies to foster better interactions in the classroom. We'll dive deep into the core of engagement, unraveling the elements that make it truly meaningful. Don't miss out on this incredible opportunity to expand your knowledge and be inspired. Subscribe now to listen.
Note: This post is sponsored by our friends at Element451. It was originally posted on the Element451 blog.