Email is an important tool for industries that rely on digital marketing channels to accomplish growth goals. That's especially true for institutions of higher education, which have witnessed steady increases in email open and click-through rates since the early days of the global pandemic.
If your college or university wants to reach the greatest number of prospective students with the most personalized email marketing efforts, you simply can't afford to ignore the power of a strong email strategy. Even in a fast-paced digital world, the right email marketing campaign will continually hit the mark with prospective students and families.
This guide will cover what you need to know about the latest trends in university email marketing and higher education—including what to do and not do if you want to produce relevant content and deliver successful email marketing campaigns.
---

Current Email Trends in Higher Education
Before embarking on significant strategy shifts, higher education marketers must understand the current climate. It's crucial to know what's popular (and what's not) in the world of higher ed email marketing at any given time.
While your marketing team can always innovate and go against the grain, keeping tabs on your competition and your target audience is huge—especially in a crowded higher education arena.
Even the best email marketing software or a pricey email marketing platform can't replace the intuitive creativity and input of a seasoned higher ed marketer. You need expertise to be able to differentiate passing trends from strategies that make an impact.
First, know how to relate to Gen Z students
If you want your email messages to land, you have to understand the voice of your ideal student or prospect. Building loyalty with Gen Z (the most likely cohort of future students) means bringing them into the conversation and making them feel like a valuable part of the plan.
Colleges and universities that have the most success with email campaigns know that it takes more than one touchpoint to create success. In 2023 (and beyond), the strongest email campaigns also tackle every stage of the student process—from application, to campus participation, to graduation and beyond.
Then, use a conversational brand voice to attract
We all receive plenty of messages in our inbox daily, and automated spam filters are becoming more adept at filtering out salesy content. If you want to capture the attention of your recipients, aim for a conversational approach to email marketing that delivers practical tips and user-friendly steps.
5 Strategies for Better Email Marketing
If you have a current email marketing plan in place, you're likely well-positioned to evaluate what's working and what isn't with prospective students. Regardless of your current strategy, there's always room for improvement!
Here are a few tips and best practices for taking your higher ed email playbook from good to great with new and current students.
Use Proper Email List Segmentation to Your Advantage
As an institution of higher learning, it's likely that your entire list covers a wide range of people and contact information. From prospects, current students, alumni, and community partners, it's wise to make distinctions between the audiences you serve.
Segmentation is important for dividing your entire audience into the appropriate lists. This step ensures that you deliver targeted email messaging to the right people, at the right time.
Without segmentation, you could mistakenly deliver recruitment messages to students who are already enrolled, and vice versa. Over time, this has a negative impact on important metrics and KPIs, such as deliverability and open rate.
A comprehensive higher ed CRM or email marketing tool can take some of the stress away from email segmentation. By keeping audience data organized and up-to-date, higher education institutions can send effective and timely messages whenever the need occurs.
Highlight Consistent Branding and Imagery
One of the key components to designing effective marketing materials for higher ed is to use clear, professional, and modern branding and visual elements.
Remember, if you're using email marketing to reach prospective college students, chances are good that they also receive plenty of other messages from competing colleges and universities. While the goal is to grab attention and keep readers interested, you should also aim to stand out.
Leverage your email provider to create strong email brand elements that include:
Updated school logo
Branding colors
Consistent messaging and voice
Accurate descriptions of all current offerings and programs
Modern visual or graphic elements
Leverage Captivating Student Stories Within Specific Campaigns
In today's higher ed climate, students crave the assurance that their program or school of choice is worth the investment. That's why many college marketing teams rely on post-graduate data and alumni information to entice each prospective student with targeted messages.
As you plan new email marketing campaigns, you should always consider the content and copy within each email message. Is the copy relevant? Does it address major worries or objections?
When you use captivating stories to build effective email copy, you further personalize your school marketing in a way that speaks directly to the needs of your audience. Consider incorporating:
Graduation statistics
Program completion stats
Post-graduate career opportunities
Personal stories or testimonials from former students
Opportunities with community and professional partners
Focus on Each Subject Line, Preview Text, and Header
Even though it's always beneficial to focus on your big picture email strategy, you shouldn't neglect smaller pieces that can make or break your goals. An element like a subject line or header text can contribute greatly to the overall success of your email campaigns.
When it comes to following best practices, the most effective email subject line is:
Clear and concise
Engaging and attention-grabbing
Well-tested other other variations (such as in an A/B testing scenario)
Creative and fun (incorporate emojis and conversational speech, as appropriate)
To truly capture students' attention, make your subject lines short and honest. This means being persuasive, personal, and informative without coming across as pushy or overly brash.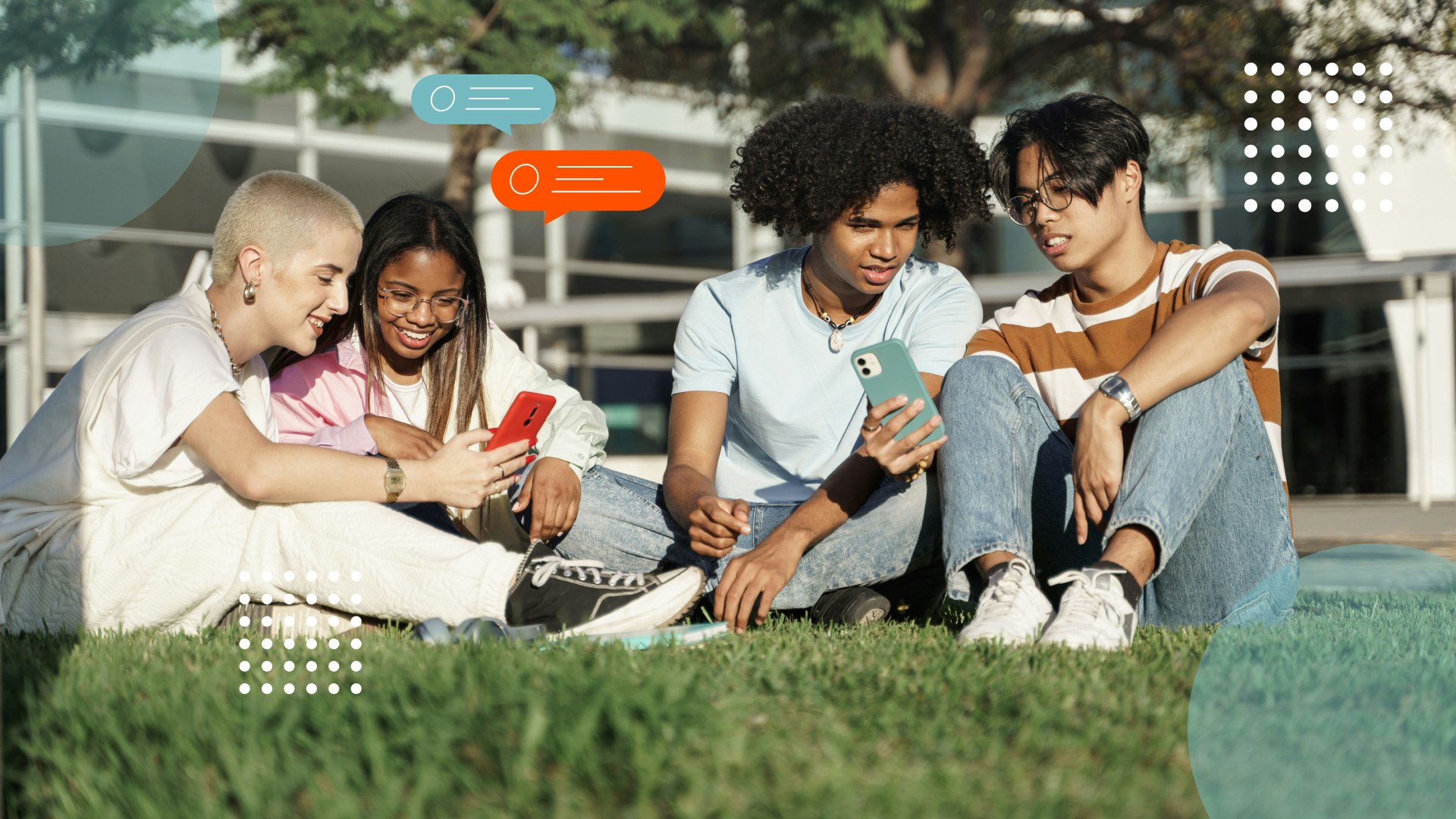 How To Reach Gen-Z Students
Gen Z expects brands to communicate with them like they know who they are. Why should colleges and universities be an exception? Learn how to create personalized campaigns at scale with this guide.
Make it Mobile-Friendly and Optimized
Have you ever opened a new email on your smartphone, only to have it be completely illegible? Optimizing your emails for different devices can completely transform the results of your higher ed email campaigns, particularly when it comes to student recruitment initiatives.
When students have trouble opening new emails on the go, it can contribute to poor click-through rates or even abandonment.
This is especially troublesome when your email campaigns are designed to encourage students to take the next steps or complete specific actions.
Before you release or schedule any new marketing campaign, make sure you've tested it thoroughly and used the right tools to improve performance across all types of devices. This is particularly important if your email includes specific elements (like photos or videos) that a recipient would need to see first in order to grasp the purpose of the message.
Incorporate Interactive Elements More Often
Whether we like it or not, even well-designed emails get lost in the inbox shuffle. Many students are flooded with incoming messages from colleges and universities during important admissions windows. Designing emails that stand out from the crowd can improve results.
This year, think creatively about how to include interactive elements in emails. Whether you're sending embedded personalized videos, creating CTA buttons that pop, or using carousel images to drive curiosity, now is the perfect time to think outside the box.
To get real-time data on how these emails perform compared to other formats, use A/B testing and click-through analytics to figure out which animated pieces resonate best with your target audience.
How Email Marketing Strategies Help Your School Grow
Modern colleges and universities have significant challenges to overcome to stay relevant, particularly in an age in which the rules of enrollment are drastically different than they were five years ago.
Email marketing is simply one way to prioritize strong student engagement and to put the individual student first in terms of messaging, nurturing, and connection.
Personalized marketing campaigns have the potential to create unique student experiences, facilitate easier enrollment processes, and automate student connections in ways that haven't been seen or experienced before.
While these results start with marketing teams, they quickly touch other major parts of higher ed institutions as well. From recruitment, to admissions, to academics, email can help engage students and make the entire academic experience easier and more informed.
Ace Your Email Marketing Campaigns
Email marketing is a crucial piece of your school's comprehensive marketing strategy. Not only does an actively engaging message help attract prospective students, but a compelling call to action can further engage your current student population. This helps each college student play a more active role in their own unique journey.
Book your Element451 demo today to learn how the right CRM platform can help you automate and accelerate your email marketing strategy.
Note: This post is sponsored by our friends at Element451. It was originally posted by Sirley Carballo on the Element451 blog.